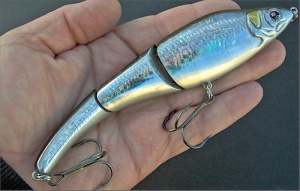 There is no doubt in my mind that big baits catch big fish, I have said it for years and continue to believe it; there is however some extreme size baits that even further the big baits big bass philosophy. Just take a look at some of the newest most effective summertime baits over the last few years that have changed once again the bait industry for the bass fisherman.
The three baits that stand out to me that are putting an exclamation point on this concept have all arrived to the market in the last few years; those being huge jigging spoons, huge jointed swim baits and the on-set of physically big size crank baits. All effective in the heat of the summer and all making their mark on tournament day for some of the best anglers in the world.
The huge size jointed swim bait, has now been around for less than five years and changing the landscape of the winners circle for the tournament angler; this massive jointed bait has mobility and size many are over seven inches long and move like big snakes under the water. Working this massive size bait over schools of bass in the summer has proved to be the winning edge for many tournament anglers, their back and forth movement coupled with physically big size have been the winners circle most productive bait. Fished on 17 lb. test line rigged on heavy tipped action rods are just deadly.
With the onset of this summer you have had to notice that jigging spoons have now moved from 7 inch baits to 10 to 12 inch baits with 3 to 4 inch wide girths with flashy bright colors and weight close to 2 oz. This newest spoon has taken a big bait industry even bigger and catching big bass all over the Tennessee River. You only need to jig these monster baits over 30 ft. water to see their effectiveness.
Lastly is big physical size crank baits, capable of getting to 30 plus ft. depths weighing more than an oz. rigged on light line these baits have been deadly over deep summer schools of bass. You're fishing them on heavy action rods and they are catching monster bass. Extreme size means big bass and the future keeps getting bigger.
About the Author: Capt. Mike Gerry fishlakeguntersvilleguideservice.com