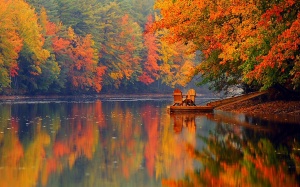 As we work our way through the second half of the year, many of us miss some of the best fishing of the year for many reasons. Family to holiday's, from hunting season to football always seem to get in the way of some great times on the water; if you're a real bass enthusiasts I suggest you plot out some time to get on the water as there are many great reasons why you should fish that will trump many of those reasons you should not.
Fall fishing can be some of the best top water fishing of the year, of course timing is everything but when it comes to top water bites those big hogs get aggressive on top and a variety of top water baits can bring you some great success. If you're a frog fisherman, a buzz bait type or a spook lover all will produce during the fall and it can be some of the best times on the water. I know from my many years on the water that the mental high you get from a big top water explosion is second to none, and you can experience it yourself.
Many of us don't think about it but the timing of the fall can also allow you to roam the lake free of the many large tournaments that haunt you during the spring; most of the big events are over and the lake can be void of some of the enormous pressure. Add up the loss of tournament pressure with those that take up hunting, family commitments, football games and more and you can find yourself somewhat alone on those big bodies of water with just a few other fall enthusiasts around you.
As the bass progress through their fall feeding frenzy and the water starts to cool to the low 60's you can really find some big hogs to add to your personal bests; fall is big fish time of year the bass are fattening themselves up by gorging themselves on bait and some of the biggest bass of the year become really aggressive.
Fall fishing is great; don't miss your chance to enjoy it!
Fish with Captain Mike Gerry, visit: fishlakeguntersvilleguideservice.com