FishAssist had the pleasure to sit down with the
2014 Bassmaster Champion
Randy Howell
FishAssist had the pleasure of talking with Professional Angler and the 2014 Bassmaster Classic champion, Randy Howell. One of the nicest guys in fishing and driven by his faith, Randy has racked up over $1,500,000 in earnings with three wins and 33 top ten finishes on the Bassmaster's Elite Series trail. We caught up with Randy as he was packing up to hit the road for an upcoming event.
FishAssist: Before we get to the excitement of winning the Classic lets talk a bit about you and how it all started. At what point did you think Fishing could be your profession?
Randy: I've done it my whole life, right out of high school. I grew up at a marina business my parents owned on Lake Gaston in North Carolina. As an only child I fished with my dad who taught me how to do everything and I started guiding out of my parents marina when I was 11 years old.
I 've always had a competitive nature, played basketball in high school and loved to compete so competitive fishing came naturally. I started fishing tournaments as a teenager and worked my way up. I started on the Redman Trail and made the regionals at age 18 and started the Top 100 Tour at 19. It took a lot of work and dedication and was a grind as it is for everyone their first 3 or 4 years. It was definitely what I was meant to do.
FishAssist: We have a lot of young people in the FishAssist audience who are interested in making Fishing their career, any suggestions?
Randy: Now it's a lot better path then it used to be. There are so many high schools and college fishing teams now and that's really the best path to take for a young person who is serious about fishing. If your high school has a fishing team get involved, if not try to help get one started. It's easier now since Bassmaster created a program that teaches the high schools how to do it. (For more information visit Bassmaster.com/highschool)
College fishing has really grown fast and nowadays you need that college education to come into pro angling with all the promotional and marketing aspects of the sport. A marketing degree is more valuable than a fisheries or biology degree in my opinion. Fish as much as you can, put as much time on the water as possible. Fish all types of tournaments, because tournament fishing is much different then recreational fishing. Fishing tournaments helps you better handle the pressure and time limits. I try to tell young people to go that route.
FishAssist: Obviously sponsorship is very important, how did you get involved with the companies that sponsor you?
Randy: You have to be creative. It's a constant job to build your name and build your brand, that's the key. Nobody ever really came to me, I had to go after everyone I've got. You have to work hard to bring a return on investment for people when they do something for you. Early on when your starting out your not going to get exposure nationally so you have to be creative to get someone to give you $10,000 to $20,000. They have to see some way to justify what you can bring back to them for that investment. Sometimes it's a time investment. Some companies like having a Pro to take their customers on the water or do promotional things in their local area. That's how I started out, doing things for companies in my local area. Once you draw attention locally you start to build a name, then you have to do good on a national level to attract the Triton's, Mercury's and other major sponsors. I tell the young guys starting out, don't go after the big name companies that the top Pro's have, your going to get disappointed. Start small and build your name up, those companies will want you.
FishAssist: How do you balance home life and the travel that your job requires?
Randy: It's easier for me than a lot of guys because my wife Robin is my partner and biggest supporter. Robin is my partner in the business we do it all together. She runs one side of it and I run the other and we make a great team. She is a teacher and home schools my boys (Laker & Oakley) on the road. We travel together in a 5th wheel motor home and a truck pulling the boat, she drives one and I drive the other. On this run we will be gone 5 weeks. I wouldn't even enjoy doing it if my family couldn't be with me. We do it all together and that makes it a lot easier and more rewarding.
FishAssist: If you don't mind kind of a personal question, what does your faith mean to you and how has is molded you as a person?
Randy: Christ is what I live for and every bit of success is for the platform. Gods given me a platform through fishing to reach people for him and that's the biggest thing that I live for out here, without a doubt. It's been a slow process over the years, building a reputation as a Christian and speaker at many churches and events over the past 15 years. Winning the Classic has given me a larger stage and platform for ministry and I have more opportunities to meet with other churches and people. I want to use this platform and fishing to reach people for the Lord.
FishAssist: Obviously Bass fishing is your passion; do you ever get a chance to fish for other species?
Randy: We try too; we try to play around and "fun fish" some between tournaments. We have a few events this week leading up to the Arkansas tournament, we are going to stop off at a lake or two and do some fun fishing with my wife and boys. We like saltwater fishing; we just don't get to go down to the coast very often. I try to do it at least once a year. My boys are 8 & 12 and they just love to catch fish, they don't care what they are, as long as the pull good they like it.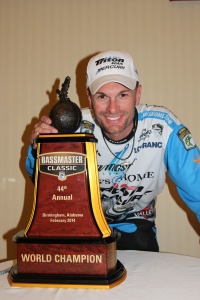 FishAssist: We think you'll agree your year got off to a great start. Your finish in the Classic was unreal, culling 4 pounders like crazy. What was that day like, what was going through your mind on the water?
Randy: I'll tell ya, that was definitely a magical day. God did something special that day, his presence came in the boat with me that morning and made that whole day unbelievable. The final day was like a fairytale or dream type of day. They bit constantly and bit all day, nothing went wrong, never lost a fish - it was just effortless that day. That's the kinda day you dream about and I'm very blessed to have a day like that on the biggest stage in the world the Bassmaster Classic. To win it and have my family watching it happen as it unfolded on the bridge along with all the King's Home Kids (a charity Randy's is very involved with Kingshome.com) added to the excitement. It was an unbelievable day, you couldn't have scripted it any better if you tried.
FishAssist: How hard was it to concentrate with the number of fans following you on the water and watching from the bridge?
Randy: You know, I'll say it again, the way it all happened it was effortless. I never got stressed out, didn't feel any pressure. I felt like I was doing a TV show, entertaining people on a TV show is kinda what it felt like. My wife said to me, it's unreal how calm you looked, you never looked like you were worried about losing fish or got shook up. You were talking with the fans all day. It was amazing; you can tell God definitely orchestrated everything that happened that day. You pray that you can have a day like that and when it finally happens you have to sit back and enjoy it, it makes up for the bad ones.
FishAssist: What is your go to bait when fishing gets tough?
Randy: That's tough to answer; there are so many baits we use for different situations and different regions, that's a hard one to answer. That said I tell people day in and day out if I had to a catch a bass anywhere you put me and only had one bait, it would be a Yamamoto Senko. That's just one of the most versatile baits made and will catch fish anywhere you go.
FishAssist: You have some tournaments coming up at Dardanelle, AR & Chickamauga, TN. How do you prepare?
Randy: I do a lot of Internet research. We have off-limits to the lake 30 days prior to the tournament and can't get any information while that 30-day period is intact. I read stuff on the Internet about tournaments, lakes and gain some general knowledge of what's going on, so when I get there I know what to expect and the quality of the fish in the lake. I only live 2.5 hours from Chickamauga but have never fished there. I drove over one day and visited a friend who took me around the lake. I did some scouting that day so that about it.
FishAssist: What was your biggest bass in competition and recreationally?
Randy: I've caught 3 or 4, 10-½ pounders but nothing much bigger. I caught a 10.8 lbs. bass in a Bassmaster competition at Lake Amistad in Texas. That is the biggest I've weighed in competition, caught 3 or 4 more close to that in practice.
FishAssist: What is your most memorable catch (other than your lovely wife Robin)?
Randy: One that was a real game changer was in this year's Bassmaster Classic. At 12:15 that day I had a feeling and the Lord was telling me to go back to the spot in the back of the creek where I caught some fish on the first day. It was kinda muddy and I really didn't want to leave the bridge because I just caught a 5 pounder and they were still biting. I knew I had to follow that voice, so I told my camera man, pack up were gunna run to the back of the creek. I had 40 or so boats sitting there watching and they couldn't believe I was leaving. I pulled up to the area in front of the grass flat and started throwing my blade jig around and caught a 6-¼ pounder. I culled a 4-½ pounder for that and went back to the bridge and caught a few more bass but that 6-pound fish was the game changer. I won by one pound. Had I not listened to that guidance to go there right when I did, I maybe would have lost the Classic by a few ounces.
FishAssist: What do you consider your biggest accomplishment and what do you hope to achieve in 2014?
Randy: Definitely winning the Bassmaster Classic was my biggest accomplishment. It will be hard to cap that. The rest of the year I hope to represent our sport with the highest integrity and do everything we can to bring attention to our Lord and savior Jesus Christ. I want to do that the rest of this year and for years to come through fishing.
Thanks again Randy for spending some time with FishAssist. We wish you the best on and off the water.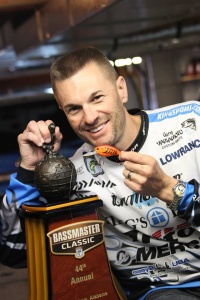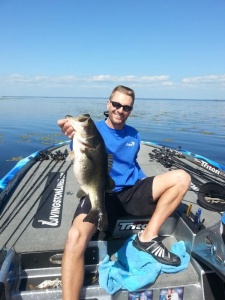 facebook.com/RandyHowellFishing