DeGray Lake
AR
Located in one of the most picturesque areas of Arkansas, DeGray Lake is home to a large array of fishing opportunities that draws in anglers from across the entire country. DeGray Lake is located in close proximity to the city of Arkadelphia. This body of water is a reservoir formed by a dam off of the Caddo River. Fishermen who visit DeGray Lake will agree that this is a location that should be on every fishing enthusiast's bucket list.


Item Details
| | |
| --- | --- |
| Species | Crappie, LM Bass, Stripe Bass, Walleye |
Fishing
DeGray Lake offers a variety of opportunities to fishermen due a large and healthy community of game fish. Game fish species in DeGray Lake come in a variety of sizes and difficulties, so this body of water is excellent for fishermen of various preferences and skill levels. Some of the main game fish species of DeGray Lake include largemouth bass, spotted bass, striped bass, crappie, walleye, channel catfish, flathead catfish, and bluegill.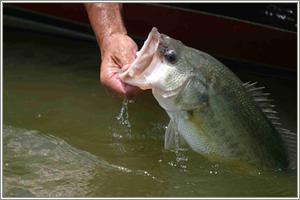 Largemouth bass is a species that can be found in high abundance throughout specific areas of the lake. Fishermen in search of this species should target the area of water between Arlie Moore and Shouse Ford. A boat is required to reach most of the fishing spots in this locations. This area consists of weed beds and drop offs that provide perfect habitats for DeGray Lake's largemouth bass. Once in an ideal fishing location, bass fishermen should cast a light tackle such as jigs, spinners, buzzbaits, and topwater lures. A medium weight rod equipped with a line of 10 to 15 pound test is recommended due to huge sizes that DeGray's largemouth bass can grow to. Other productive areas include Brushy Creek and the Edgewood points.
The striped bass populations of DeGray Lake are also frequently targeted by the anglers of DeGray Lake. This species is renowned for its fighting ability and strong challenge that it presents to fishermen. Striped bass can be found in dense populations in the stretch of water between Lenox Marcos and Point 14. In this area, fishermen should target striped bass using bottom rigs or trolling methods. When trolling, fishermen should troll DeGray's waters at a speed of 2 to 4 miles per hours. Shiny lures such as spoons and spinners are the most effective options. A strong line should be used when targeting this difficult game fish.
The walleye is another common target of fishermen seeking an exciting challenge. During the spawning season, this species can be found throughout the entire lake in shallow waters. Walleye can be found in the deep waters near Lenox Marcos during the remainder of the year. Deep diving crankbaits and jigs are the best tackle options for targeting walleye. Productive areas include the deep drops near the many islands in DeGray Lake.
DeGray Lake is well known for its populations of catfish. Large catfish can found in high numbers in an area known as Bushy Creek. This area has deep fishing holes with a large population of channel and blue catfish. Bottom rigs should be equipped to a line of 15 to 20 pound test. Ideal baits include chicken livers, anchovies, minnows, stink baits, and various other smelly bait choices.
Crappie can also be found in large abundance. This species prefers shallow waters with plenty of hiding spots, so fishermen should target the narrowest waterways on the western end of the lake. Nightcrawlers and crickets are successful bait choices. Topwater lures, bobbers, and jigs are among the most effective light tackle options.

Facilities
DeGray Lake's facilities include marinas, piers, boat landings, tackle shops, fueling stations, boat rentals, and lodging.

The Lake
DeGray Lake is a large body of water. It has a total area of 21 square miles. This reservoir is 3,400 feet long. It has an average depth of 47 feet and a maximum depth of 180 feet. Degray's shoreline measures out to 207 miles long.

DeGray Lake is an excellent location with vast opportunities for fishermen of various skills and experiences.
Advertise your Guide Service here:

We are looking for accomplished guides to list their services on FishAssist. Please contact us at advertise@fishassist.com

Advertise your Local Business, Lodging or Marina

on FishAssist.

To list please contact us at advertise@fishassist.com