Patoka Lake
IN
Located in beautiful southern Indiana, Patoka Lake is a prime fishing destination for anglers in search of a challenge or relaxation. As the second largest reservoir in Indiana, Patoka Lake is situated in the counties Dubois, Crawford, and Orange.  This reservoir is formed by the Patoka Lake Dam off of the Patoka River and is also fed by water from the Allen, Paint, and Ritter Creeks. 
Item Details
| | |
| --- | --- |
| Species | Crappie, LM Bass, Stripe Bass, Walleye |
Fishing
The game species of Patoka Lake include largemouth bass, bluegill, channel catfish, redear sunfish, crappie, white bass, striped bass, hybrid striped bass and walleye.
Patoka is one of the best largemouth bass waters in the state of Indiana. Target the many main lake points, timber, drop-offs and vegetation. The mouths of the Allen, Paint, and Ritter Creeks are great areas to target largemouth bass. South Lick Fork, Ritter Creek and Painter Creek are also productive bass areas.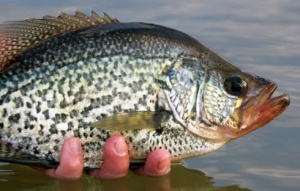 Crappie in Patoka grow big and are abundant. Target the Kings Bridge Area and main lake points to find schooling crappie. Crappie can also be found in Allen, Sycamore and the coves adjacent to the dam area. Patoka Lake is one of the most productive crappie lakes in the state.
Channel catfish can be found in Patoka's deep regions. Various deep fishing holes and the area of water near the Patoka Lake Dam are great places to begin targeting catfish. Bottom rigs and various baits should be used when targeting catfish.
In the spring spawning season, walleye can be targeted near the shoreline in weed beds. In the spring fish the many creek entrances. These walleye are often smaller than those that roam the deep waters, but they can be targeted in larger quantities. During most of the year, large walleye can be targeted in various deep-water locations through the use of crankbaits and other live bait. Look for main lake humps and drop-offs using electronics to find these areas.
Bluegill and redear sunfish can be found near the shoreline weed beds, coves, and creeks throughout Patoka. Light tackle, with small lures, plastics or live bait should be used when targeting these smaller species. During the winter, ice fishing is also an option.
Facilities
The facilities and accommodations of Patoka Lake include boat landings, piers, fueling stations, marinas, picnic areas, recreation areas, stores, tackle shops, lodging, and fishing areas.
The Lake
Patoka Lake has a total surface area of 8,800 acres. It is located at an elevation of 535 feet and has a maximum depth of 52 feet. Several areas of Patoka are covered with vegetation and submerged timber.
Patoka Lake is an ideal destination for the angler in search of beautiful body of water that offers exciting fishing opportunities.
Advertise your Guide Service here:

We are looking for accomplished guides to list their services on FishAssist. Please contact us at advertise@fishassist.com

Advertise your Local Business, Lodging or Marina

on FishAssist.

To list please contact us at advertise@fishassist.com